Linen Business Cards
Linen Business Cards printing in Brisbane.
Linen business card has raised textured pattern.
Looking for textured business cards? We can help!! These business cards are printed on 350 gsm Knight White Linen paper stock. Linen paper stock is in the specialty range and draw attention quickly with its distinctive raised grid textured pattern and feel. Contact us for your Linen Business cards printing in Brisbane today.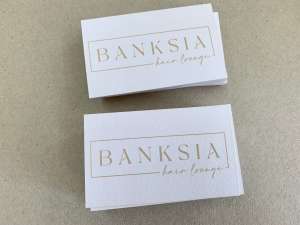 Frequently Asked Questions
WHERE I CAN PRINT linen business cards IN BRISBANE?
AllPrint Brisbane offers wide range of business card printing service. We can produce custom size cards printing on various paper stock and finish.
WHAT IS A Business card?
Business card is an essential marketing material to convey business contact information on printed paper or plastic material.
WHAT PAPER STOCKS ARE USED TO PRINT linen business cards?
White Knight linen paper stock 280 gsm or 350 gsm
WHAT STANDARD SIZE Business cards ARE AVAILABLE?
Standard sizes 90 x 55 mm, 90 x 54 mm , 88 x 53 mm
HOW CAN I CREATE ARTWORK FOR BUSINESS CARD PRINTING? WHAT PROGRAMME I CAN USE TO DESIGN LINEN BUSINESS CARDS? WHAT FORMAT DESIGN SHOULD BE?
To create artwork for your CARD printing process, it recommended to use Adobe Indesign application. On the document set up, choose your finished page size, keep a margin of 3 mm all around. All texts and important elements must be inside the 3 mm margin as this is the safe are for trim. Artwork must include BLEED margin 3 mm all around. Document then can be exported to PDF. Choose press quality option and check trim and bleed marks are included. Supply as single document including both pages and one PDF file.
Standard turnaround time for LINEN BUSINESS CARDS ARE  printing 250 – 1000 copies is 3 – 5 working days. Urgent orders can also booked by appointment.  Larger quantities are done in 5 – 7 working days.
WHAT IS THE PRICE TO PRINT LINEN BUSINESS CARDS?
Prices depend on the paper stock, size and quantity required. Email us to get a quote mentioning quantity and paper stock.