Scorecards
Scorecards Printing
Scorecards are vital for golf clubs and bowling clubs.
Scorecards are an essential element to every round of golf. They are the map to help the members and visitors negotiate the course and the local rules of the course, but it's also a crucial marketing tool for members and society golfers. We believe they should be attractive, high quality and above all reflect the values of each club's brand.
AllPrint offers a wide range of design and printing options, from our most basic and economical golf scorecards to the most beautiful brochures and other custom print materials.
We can print onto uncoated stock to ensure your scorecards can be written on in all weather conditions.
Available in full colour or black and white, with multiple sizes and styles to choose from each custom golf scorecard can be designed to your exact specifications and personalised to reflect your club's image.
Designs can be mailed directly to Allprint's email Id. Files should be uploaded in PDF format as single pages; our team can give you guidance as required.
What Paper materials can be used?
Uncoated stock 200 gsm – 350 gsm
Cast coated or 1 side coated stock
Matt scorecards
Sizes
Common sizes are A5 folded to A6
We can do custom sizes as well
Bifold or trifold
Double sided score cards without folding
We can even help you create your artwork, tailored exactly to your club's brand.
For our full range of sizes, finishes, lamination and printing options please contact us via email or phone.
We have built our foundation and reputation based on exceptional customer service. Our representatives are ready to assist you in all your printing needs!
As a custom printer, we carry the ability to produce your project however you need, no matter how big or how small.
How to order your scorecards
Email us at info@allprints.com.au
Read our satisfied customers' review
Check our recent works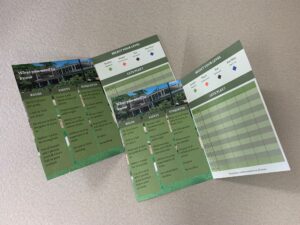 0